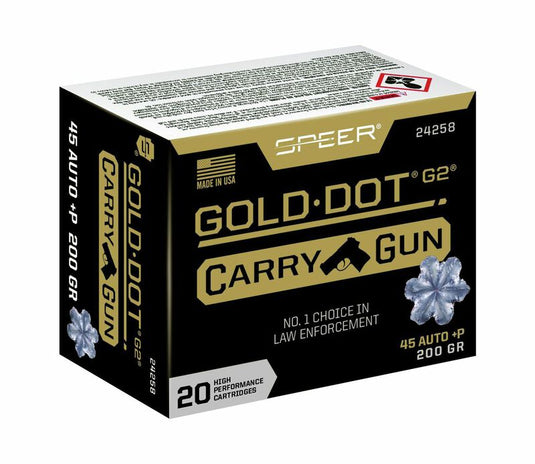 Shipments for California and New York please read this page.
https://generalstorespokane.com/pages/ammo-shipped-to-california-and-new-york
Product Overview
 Compact pistols have never offered this level of protection. Speer® has built upon the law-enforcement proven Gold Dot® G2® bullet, optimizing the design and loading to provide superior feeding, ballistics and terminal performance through compact concealed handguns. Gold Dot Carry Gun features the original's exclusive bullet nose design. Instead of a large hollow-point cavity, it has a shallow dish filled with a high-performance elastomer. On impact, the material is forced into engineered internal fissures to start the expansion process. The result is extremely uniform expansion, better separation of the petals, and more consistent penetration across barrier types.
Gold Dot G2 bullet design optimized for compact carry pistols

Shallow dish nose cavity filled with elastomer and structural-plated, pressure-formed core improve performance through barriers

Extremely uniform expansion and penetration when fired through short barrels

Exclusive Gold Dot construction virtually eliminates core/jacket separation
SPECS
| | |
| --- | --- |
| Caliber | 45 Auto +P |
| Grain Weight | 200 |
| Bullet Style | Gold Dot Hollow Point |
| Muzzle Velocity | 1080 |
| Test Barrel Length In | 5 |
| Package Quantity | 20 |
| Usage | Self-Defense |