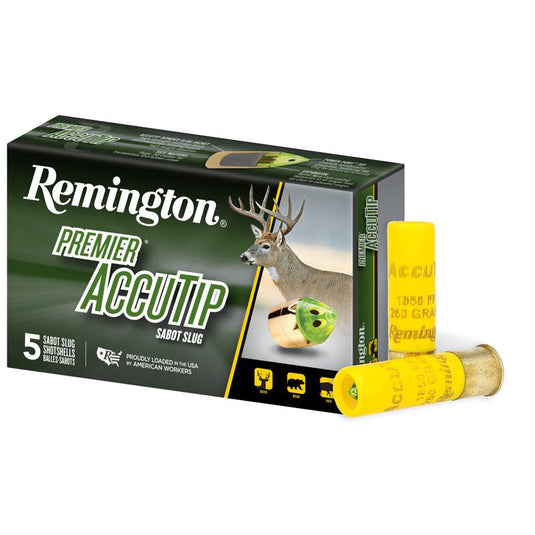 Shipments for California and New York please read this page.
https://generalstorespokane.com/pages/ammo-shipped-to-california-and-new-york
Product Overview
 MORE ACCURATE. MORE LETHAL, AND IT'S ALL ABOUT THE TIP.
It doesn't just look intimidating, it's flattening whitetails and competitors in the tipped-slug market with devastating ferocity. Guided by our new Power Port™ Tip, AccuTip Sabot Slugs delivers a degree of accuracy and terminal performance unmatched by any other we tested. This masterpiece of aerodynamics consistently prints tiny 100-yard groups and transfers tremendous knockdown force to the farthest reaches of shotgun range. It's the largest tipped slug you'll find anywhere. In field testing, these huge .58-caliber slugs (12 Gauge) and flat-shooting .45-caliber slugs (20 Gauge) produced gaping wound channels and crumpled every deer they touched with a single shot. From 5 to 200 yards, it yields perfect mushrooms and over 95% weight retention thanks to its spiral nose cuts and high-strength cartridge brass jacket. Designed for rifled barrels only. Available in 2¾" or 3" 12-gauge and 20-gauge versions.
Specs
| | |
| --- | --- |
| Gauge | 20 Gauge |
| Grain Weight | 260 |
| Muzzle Velocity | 1850 |
| Bullet Style | Sabot Slug |
| Type | Lead |
| Shotshell Length | 2-3/4in. / 70mm |
| Ballistic Coefficient | .144 |
| Package Quantity | 5 |
| Usage | Big Game |