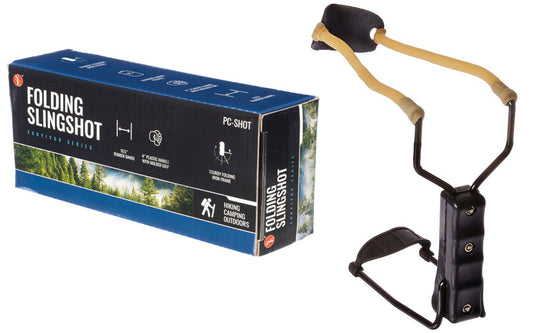 Single Band Folding Slingshot has two 10 1/2" rubber slingshot bands. It has a sturdy and strong folding iron frame and a 4" plastic handle with a molded firm grip for steady aim and improved accuracy. It has an approximate 100 yard range. It is great for hunting small game and vermin, as well as target practice. It has a folding wrist lock for extra support and stability. It's compact sized and can folded and stored.
Product Features:
• 2Pc 10-1/2" Rubber Bands
• Sturdy Folding Iron Frame
• 4" Plastic Handle with Molded Grip
• POUCH NOT INCLUDED. MISPRINT ON PACKAGING
Sling Shot Instructions: Insert non-shooting hand under iron frame and firmly hold onto the handle. The wrist support should lay against your wrist. Place desired ammunition in the center of the ammo pouch and pinch the sides with your thumb and index finger to secure it. Keep feet shoulder width apart and your knees unlocked and relaxed. Do not pull and release the bands at eye level. Pull back the ammo pouch and release to shoot slingshot.