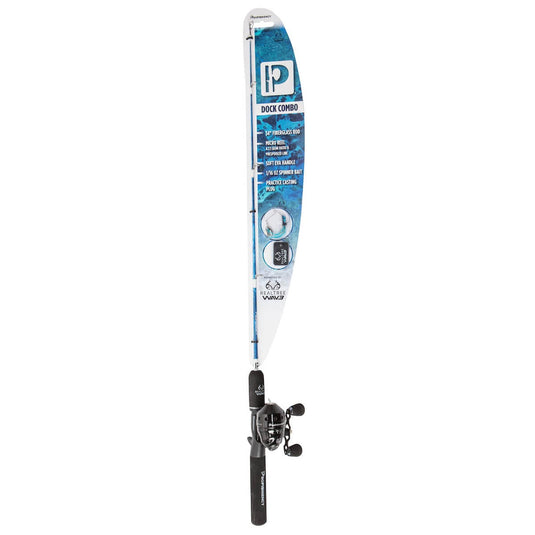 SMALL FISHING POLE: The camouflage kids fishing rod and reel combo is 34IN in length making it an ideal option for young anglers. The micro fishing rod also makes for easy storage when traveling to your favorite honey hole!

PUSH BUTTON REEL: The spincast fishing reel comes pre-spooled with a durable 6LB monofilament fishing line. The reel has a 4.1.1 gear ratio and a standard right hand retrieve with a double EVA reel crank. You can easily set the drag to your preference by adjusting the dial on top of the reel.

DURABLE DESIGN: The dock combo's rugged design makes for a perfect children's fishing pole. The strong fiberglass rod is built to withstand harsh usage from a young angler and it is tough enough to forcefully reel in all sizes of fish.

EASY-TO-USE: The lightweight design weighs in at 8 ounces, making it easily controllable by children and junior anglers. The double EVA reel crank is easy to grasp providing the sturdy grip needed to fight big fish.

READY FOR WATER: Each dock combos come equipped with a mini spinnerbait lure and practice casting plug. The mini spinnerbait is designed to catch a variety of species including panfish, bluegill, bass, and trout. The practice casting plug is perfect for young boys and girls to refine their casting skills at home or at the park.