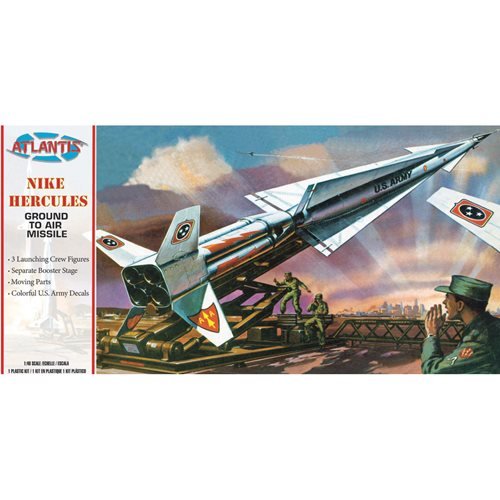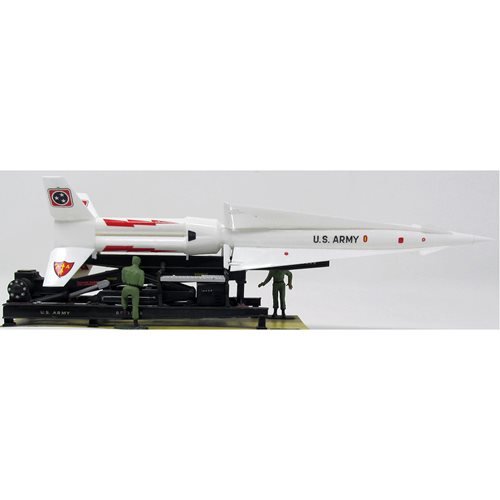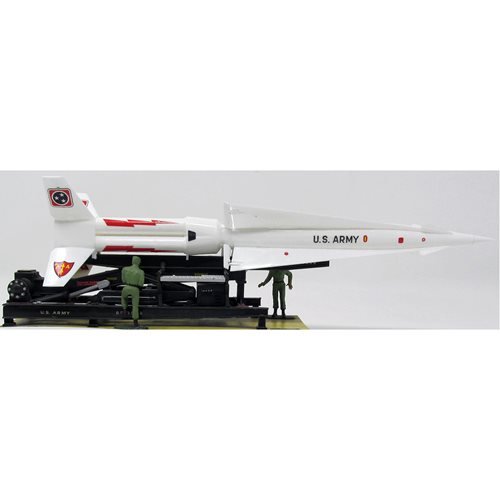 The Nike Hercules Missile 1:40 Scale Plastic Model Kit will come molded in white. It will included decals and the original 2 color instruction sheet. Missile moves up and down and come with 3 groud crew figures. 70 parts. Produced under license from Boeing, its distinctive logos, product markings, and trade dress are trademarks of The Boeing Company.
During the Cold War era, the Nike Hercules was the second "combat-ready" land-based surface-to-air missile to be put into operation by the US Army. Designed to replace the already operational Nike Ajax, the Hercules had a greater range and accuracy than its predecessor, but maintained the same electronically-controlled guidance system. This very successful control system seeks out the target, then at the same time directs the missile to it. The dart-shaped missile carried an Atomic warhead and was 27-feet long. Its cluster of four booster rockets were 14 1/2-feet in length. Both the missile and its booster were powered with solid-propellant rocket engines, and its speed was given as being between 2,000 and 2,500 miles per hour. Its range was approximately 70 miles. The atomic warhead was designed to insure that detonation could only occur at altitudes sufficiently high to prevent damage to friendly surrounding territory.
Development of the Nike Hercules was the result of close collaboration between the Douglas Aircraft Company, Army Ordnance Corp, Bell Telephone Laboratory, and Western Electric Company. It was a fine example of how American industry can work together to solve complex problems to protect American cities in the event of a full scale Nuclear attack.