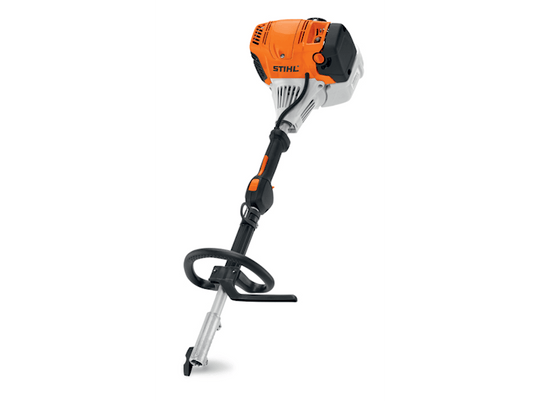 When you are on the job, which do you value more: power or versatility? If you answered "both," then take a look at the KM 131 R KombiMotor. This multi-tasking tool is the most powerful in the STIHL KombiSystem family and features a low-emission engine, delivering 30% longer run times compared to previous models. It's compatible with over a dozen KombiSystem attachments, giving you incredible utility in a fraction of the trailer space compared to stand-alone tools. The KM 131 R is also easy to operate, featuring a semi-automatic choke lever, one-touch stop switch, anti-vibration system and a specially designed quick-release coupling system for easy switching between attachments. The only thing easier than using the KM 131 R is leaving your older, bulkier power tools behind.
The STIHL KombiSystem is a versatile landscaping system that includes a powerful STIHL KombiMotor and a full line of attachments. Together, they give landscaping professionals the ability to tackle a tremendous range of outdoor tasks without loading the trailer with a pile of tools. Attachments include trimmers, blowers, hedge trimmers, edgers, pruners, cultivators and more. Each attachment slides into the KombiMotor effortlessly and is secured via a quick-release coupling system, saving you time as well as trailer space.
NOTE:
 STIHL KombiMotors and STIHL KombiSystem attachments are sold separately.