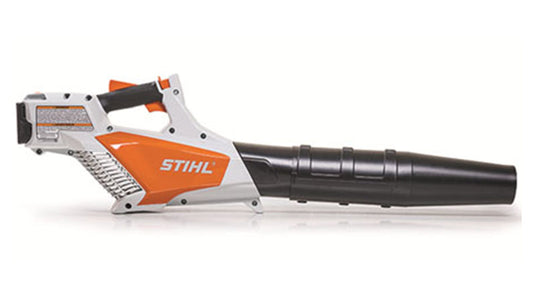 Look to this battery-powered handheld blower for easy care of your outdoor spaces.
The BGA 57 delivers powerful STIHL performance combined with great control and comfortable operation. This blower has up to 123 mph of maximum air velocity for effective clearing of leaves and other yard debris. Weighing just over five pounds, the BGA 57 is compact and portable. A slim design and even weight distribution allow the blower to be held close to the body, keeping fatigue to a minimum while maximizing maneuverability. Additional comfort features include a symmetrical trigger lockout that allows users to easily start the unit with either the left or right hand, a rubberized handle for comfortable grip, and a tube that easily adjusts to three lengths to suit different user heights. The BGA 57 has a run time of up to 25 minutes On A Single Charge* with the AK 20 battery, making it the ideal choice for homeowners to care for their yard, deck, sidewalks, driveway, and more.


*Run time may vary based on battery type, charge level and capacity, model, operating style, and conditions. Batteries and chargers can be purchased separately or as a combined set with tool.