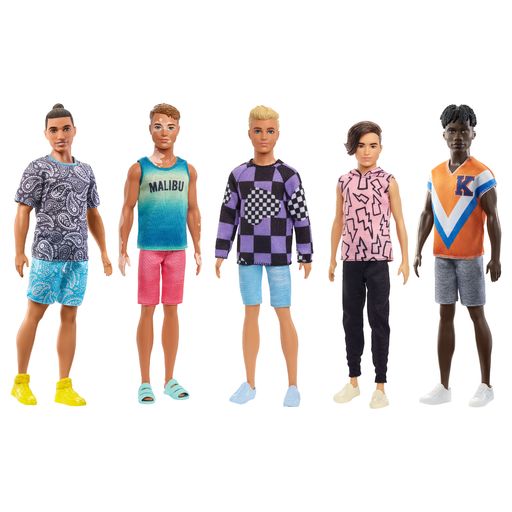 Product Details
Barbie and Ken Fashionistas celebrate diversity and offer endless possibilities for storytelling and fashion exploration. With this inclusive range of dolls, kids can express their personality through style and creative role-play! They're an ideal gift for fashion-loving kids everywhere. Each sold separately, subject to availability. Dolls cannot stand alone. Colors and decorations may vary.
Designed to reflect the world kids see today, Ken Fashionistas dolls feature a variety of skin tones, eye colors, body types and fashions, as well as hair styles, colors and textures.
Each Ken doll wears a unique outfit that pops with his personality and style! Cool accessories like sneakers complete each look.
This latest line of Ken Fashionistas dolls showcase the trendiest looks of today. Kids can express their own style and discover that fashion is fun for everyone!
Designed with a zipper, the reusable vinyl bag can store a doll or other Barbie fashions and accessories. Kids can use it for on-the-go-play and decorate it with their own art supplies, like stickers!
More variety makes collecting Barbie and Ken Fashionistas dolls even more fun -- they're the perfect gift for kids 3 years and older! (Each sold separately, subject to availability.)
You are purchasing 1 doll at random depending on inventory.